"How, your friend buying you not buying ah?"
- Over-friendly sales staff at the Heeren last week, making smalltalk to brother while I was otherwise occupied. Friend? Rightttttt..
friend
.
"Are the two of you twins? You look so alike!"
- Insurance agent giving weird compliments while trying to get brother+me talking. Oh well, at least she came up with something original, can't fault the creative lie.
I ended up posing as an impoverished 20 year old student ("
Yes Temasek Poly year 3, waiting for NS blah blah..
") and she swallowed the lie whole :) Hook, line and sinker. Goes to show how underage I look -.-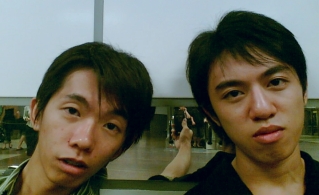 The twins (?) at
Shitty
City Hall MRT today.
Totally unalike
lor
! Same factory, different model and 6 years' difference in manufacture date
la
.