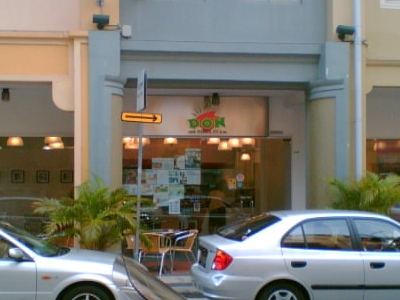 A verrrrrrrry late lunch w/ LS at
DON
. (
That's the place where they sell tasty chicken pies
.) That aside, would you call a meal at 3p.m. linner, dunch or some other weird bastardisation of the two words? :)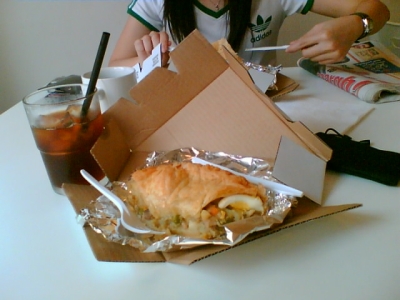 Chicken pie! *slurps* Food at last, before I start mugging :) The pies are really good, you should try them if you haven't done so before. S$3.80 for a quarter pie of filling proportions, if you're curious.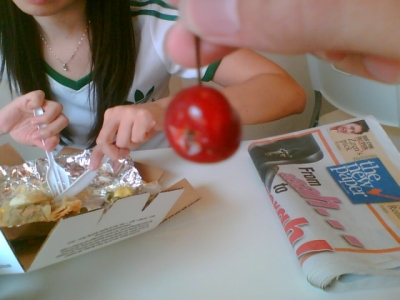 It's pretty blurred here, but this cherry was quite misshapen from its trip. Improper handling on the trip from China to Singapore, tsk tsk.
*insert mugging on CCNA in between*
ah kein & LS, somewhere near
China Square
.
(
Note: having a longer arm helps immensely in taking better looking pics, as we found out after extensive testing. Lousy looking pics not shown here.
)
Random snap of the surroundings.
Random snap of the surroundings #2.
*transit period, walking around*
And we ended up at this place later on, called..
Changing Appetites
, as you can see :) Comfy outdoor seats, the indoor ones looked a little too rigid for my taste, grins.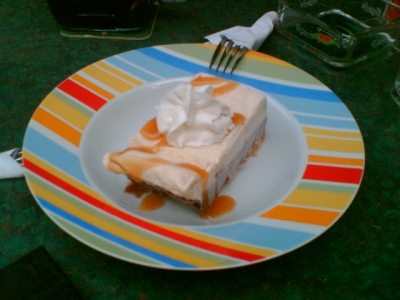 A mudpie named 'When Rum Met Raisin'. Trying to be creative but well, I appreciate the effort in them trying :) Name aside, it actually doesn't taste half bad. Unlike other rum & raisin flavoured ice cream, you can actually taste the liquor strongly in this one. Nice :)
Oooh, big glass of root beer float. Normal glass for comparison purposes.
With the Samsung mobile as a comparison, you can now imagine how big it is :) It'll definitely slake your thirst I say.
Nothing more, and we split ways after that.